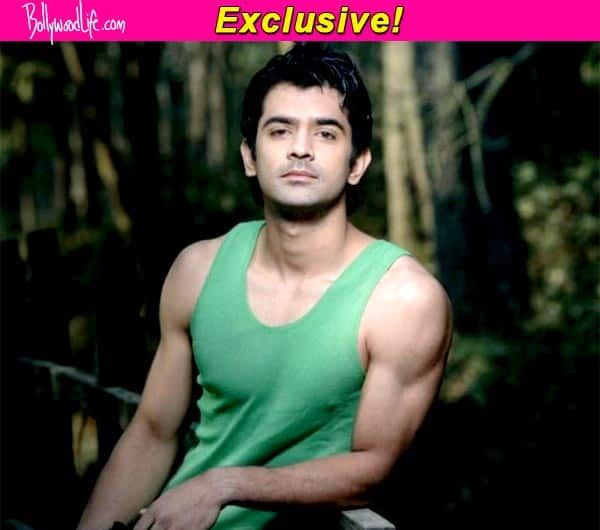 The dishy actor reveals why he really quit Iss Pyaar Ko Kya Naam Doon, his upcoming movie Main Aur Mr Right, his real life story and more
Ever since Iss Pyaar Ko Kya Naam Doon ended, I've been trying to get in touch with Barun Sobti – the charming, suave, intense actor that almost every girl I know drools over. He sat waiting patiently for me as I finally found the location and settled down to start my long series of questions. Dressed in beige pants and brown t-shirt, Barun looked cute as ever. Read excerpts of the interview…
Ever since you decided to quit television, your fans have been begging and some had even sent threatening letters to the channel to bring you back. Did you personally face any of this?
OMG! People threatening… that's new. I think everyone should get the liberty of picking their own career. I understand that people want to see me back on TV but it's only because of the kind of content I have been doing that people want to see me more. If I have someone else making that choice for me, the result would not have been the same.
Were you approached by anyone to change your mind regarding quitting the Star Plus show?
No. Whenever people meet me, they are usually excited to share their experiences and what they love about the character with me. They are happy to greet and pose for pictures with me.
Were you surprised to hear that Iss Pyaar Ko Kya Naam Doon went off air after you announced your resignation?
I was in UK when I heard that they had decided to end the show. In fact, it was my mom who told me about it. According to my knowledge, they had roped in Viraf Patel to play a completely new lead in the show, he was not going to replace me; but guess that did not happen. I was on a vacation with my wife that's when I came to know that the show ended.
It's been two years since you left, what have you been doing all this while, besides shooting for Main Aur Mr Right, 22 Yards and Satra Ko Shaadi Hai?
Various things, but it is kinda personal.
Is it true that while you were waiting for the release of your films, you were offered television shows? Why did you refuse?
Yes I did get a lot of offers but I can't take any names. A lot of people wanted me to do TV shows before the trailer came out. Offers never stopped pouring, a lot of people thought, 'ki kuch nahi kar raha hai toh TV offer karte hai'. I do not remember what all scripts I received but I did get quite a few of them.
How did Main Aur Mr Riight happen to you?
Main Aur Mr Riight happened during Iss Pyaar Ko Kya Naam Doon itself. These guys called me for the role, I met them, read the script and I liked it. I enacted a few part and they were happy with it. There was no deliberate shift from television to movies as people often keep saying. When I left the show, I didn't even have any movies in my hand. I had shot for a few sequences, post which I was working for three months on television. I did not leave TV for films.
Several interviews post IPKKND suggest that you had health issues, what was that all about?
See firstly, I had a mental block 'coz I was doing the same thing for two years every day for 12 hours. I had experienced that even during my previous show – Baat Hamari Pakki Hai where I worked a lot. There have been times when I've even worked every day for a month for an average of 17-18 hours a day. Whenever I took a show, I promised to only do it for one year but once you get into the routine it is hard to let go. With time I realised I was not growing anymore. Besides all this I had started losing a lot of weight, I lost my appetite and my health was not good. Plus I never got any time to spend with my wife.
But things in television have changed, right? According to the new regime actors are not allowed to work more than 12 hours in any show.
That depends on your star stature. There are people who would come and work for four hours and no one would tell them anything but poor actors like me, we've worked for 17-18 hours a day. For my first show Shraddha, I shot for 52 hours with a two hour break in between. I have done crazy amount of work when I was required to, but it got a little too much after my last show. All you are is your character, there's no life beyond it.
Your film Main Aur Mr Right has been delayed over two years, would you know why?
The usual, it takes time to make a film, and if one thing does not go right changes a made, it's re-shot, dubbed and sent for post production again.
But we heard that the film was delayed due to lack of distributors.
I have no idea about all that.
While I am sure all the three projects are very close to your heart, which one would you rate as your best work?
Main Aur Mr Right is a youth oriented film, Satra ko Shaadi Hai is a real life wedding scenario of a middle class family without any bling, and 22 Yards is a human story of a cricket agent. They are all very different and I can't upset any producers by picking one, but I will answer your question. I was doing two characters at that time when Main Aur Mr Right came to me. It required me to put in enormous amount of energy but it was difficult 'coz I had no energy left but I still had to do scenes , which in my head when I did them it was great, but my director would come back and tell me 'Barun this is not close to how over the top I want you to be'. So in that terms it was difficult, I hope people like it. Comedy is a very difficult genre to do. When you are crying its okay if people don't get emotional with you, but when you crack a joke it's not fun when people don't laugh. Satra Ko Shaadi Hai was difficult 'coz I was playing a simple guy. It's important to know when to perform and when not to. It was a delicate character who could get lost in the crowd also and it can stand out too. 22 Yards is an intense story inspired from real life events. So among the three of them Main Aur Mr Right was my best work.
What about Main Aur Mr Right drew you to it?
When I was deciding to do this movie, a lot of people asked me the same question. According to me, if you are good enough you do not need alibis to pick and choose something. I read the script and that was enough for me to pick the movie. I think we have committed with the promo that we are not making a thought provoking sci-fi movie. It is a very simple and light-hearted movie and that is the commitment in the promo. When you come out of the theatre you may not be smarter but you'll be a happier person.
How would you rate your chemistry with Shenaz Tresurywala and Sapna Pabbi?
Shenaz and me we hit it off really well. She is a very chilled out person. The chemistry is fun rather than intense. There is a conflict of interest which is cute. As for Sapna Pabbi, I don't have anything bad to say about her. Satra Ko Shaadi Hai is an ensemble of 53 people. She listens to me I listen to her, we are nice to each other. Sometimes I feel she is a little lost. She has been abroad for the longest time so she takes a while to get in the Indian way. I'll rate my chemistry with Shenaz a 7.5 and with Sapna it is about 7, there's not much of a difference. Just that Shenaz and I spent more time together.
We know about all your characters, but now we want to know about the real Barun Sobti.
How do you describe yourself? You should ask my wife this, I think she will be able to answer this better. I believe I am kiddish, but only with my wife. No one's really comes across that side of me, people really think I am intense, sincere and arrogant basically because I don't talk much. Yes, sometimes I have to be told things, but that would not be my family's opinion. According to them I have to be told everything. But when it comes to work only I make those decisions.
Do you consult your wife and family before picking a role?
It's a mutual thing. All kinds of opinions and viewpoints are exchanged, but ultimately I make my own mind.
Among all the kind of roles that exist, what do you personally prefer – the romantic dude, the angry brooding man or something else?
I like playing the intense character, 'coz they are deep. I love characters with a subtext especially if they don't talk much; that gives me an easier job to do. (laughs)
What are your expectations from Main Aur Mr Right?
I am anxious, but it's difficult to spell out what I expect. It will be interesting to see how it is received. It will be exciting to see how much we pull in and how people react to it. If it doesn't succeed then I would not know whom to blame. I don't know the fandom that you are talking about really still exists or not. I know there are a lot who like me so I believe they will be generous enough to go and take a look at my work.
Who is your target audience?
We are trying to target all kinds of people. We believe all the younger crowd would watch this film and hope they take their families with them.
If Pashmeen Manchanda (wife) had to change you to become her Mr Right four years back, would you agree?
All of us change in our own sense. Change is the only constant thing in the world.
Let's talk about your real life love story – how did you and Pashmeen meet, fall in love and get married?
It will be four years since we got married on the release date of Main Aur Mr Right. We met in school. She was going to drink water from the tap and I was staring at her. No one proposed actually, we graduated into love and then marriage. We've been together for the longest time; there was no scope of proposing. We studied together, and then she went to Australia for further studies for five years. If you go through a long distance relationship and survive it, then you can survive even death. When she came back everyone knew we were going to get married.
Has she ever stopped you from romancing women onscreen or told you not to get too close?
She will laugh if she hears this. Pashmeen has never had a problem with my work or the women I romance onscreen. Even if you show her my photograph with another woman, she will not believe it.
What's the one thing you will never do in a Bollywood film – strip, sex sequences or suicide?
The only thing I will refrain from doing is something that doesn't play well in my mind. I am ready to strip onscreen since I have a good body.
You've finished three films, the fate of which will decide your future in Bollywood. But in the meanwhile, will you consider coming back to TV?
Of course I would like to do TV. There are brilliant shows coming up. I don't know if it's the right time to do a show or not but I would love to be associated with a respectable TV show irrespective of how my films fare in the box office. I am ready to even put in my own money and do a show. I'd like to do something that comes out every year and be part of a series like that would be interesting enough. Look at American television, it is so big. I am crazy for American television – The Good Wife, Suits, Homeland and The Newsroom.
Are you worried about competition at all – from co-actors, other B-town celebs or anyone?
I am only worried about myself and my performance; nothing else matters.
http://www.bollywoodlife.com/news-gossip/barun-sobti-i-am-ready-to-strip-onscreen-since-i-have-a-good-body/